Game of Thrones returns to television this week, and in celebration, here's a list for those who can't get enough high fantasy. The Encyclopedia of Fantasy (1997) defines high fantasy as "Fantasies set in Otherworlds, specifically Secondary Worlds, and which deal with matters affecting the destiny of those worlds." In essence, high fantasy stories are set in fully imaginary worlds that are different from our own world, and have their own geography, culture, history, and politics. (And sometimes maps!) Lord of the Rings is the most well-known high fantasy.
High fantasy is sometimes defined by more strict rules, such as the existence of a Dark Lord and the battle between good and evil, but in selecting these books I've used the more relaxed definition of high fantasy, with the goal of aiding discovery for those who enjoy fantasies set in other worlds. High fantasy can sometimes include "portal" stories, such as The Chronicles of Narnia, but I limited this list to those stories with completely autonomous worlds.
A note about diversity: only a few books on this list feature diverse characters, as best I can remember. Elisa in The Girl of Fire and Thorns has dark skin and is heavy by her culture's standards. Fire and the other Dellians have dark skin, and Prince Raffin in Graceling and Bitterblue is gay. I really tried to find diverse books to include on the list, but given the specific criteria I was looking at, I couldn't find any others that I could recommend unreservedly, and I won't recommend books that I haven't read. If you know of any, please share your recommendations for diverse high fantasy or high fantasy by diverse authors from the Cybils nominees in the comments below.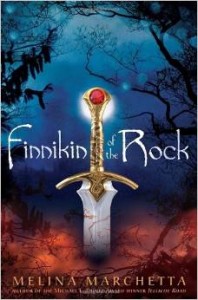 Finnikin of the Rock, by Melina Marchetta (2010 Nominee) [Also Froi of the Exiles, 2012 Nominee, and Quintana of Charyn, 2013 Nominee]: Ten years earlier, the land of Lumatere was invaded, the royal family murdered, and a curse raised to separate it from the rest of the land. As the son of Lumatere's former Captain of the Royal Guard, Finnikin does what he can to help the other exiles scattered throughout the lands, but with Lumatere closed off, and the royal family dead, there's not a lot that Finnikin can do. Then a young novice claims to know that the Crown Prince is still alive, setting Finnikin and his companions on a journey to find the truth, seek the crown prince, and gather together the remnants of their people. Includes Map.
---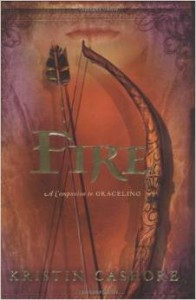 Fire by Kristin Cashore (2009 Winner): In the land called the Dells, certain animals, called monsters, have a beauty so vivid that that people and animals are mesmerized and would simply offer themselves as prey. Fire is a human monster, and her beauty and vivid hair gives her a dangerous power of mind control. Fire's power is so strong that she could have whatever she wanted, and in fact, her father did just that. But Fire is determined not to be like her father, and does her utmost to avoid using her power. When the prince asks her to user her powers to help the land, she reluctantly leaves her seclusion to accompany him. Includes Map.
---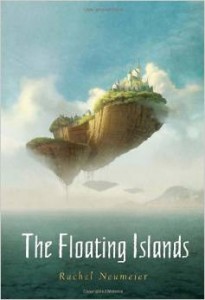 The Floating Islands by Rachel Neumeier (2011 Nominee): Incredibly detailed and creative world building; well-developed magic system; great characters; beautiful writing with lots of sensory imagery; dragons! The two protagonists, a boy and a girl, are each outsiders in different ways, and each longs for a different life: Trei yearns to fly, which may not be allowed to someone from another land, and Araene wants to be a chef, an occupation forbidden to girls. As these two children struggle to make their way in the world, the book deals with themes of loss, loyalty, and being true to one's self. Includes Map.
---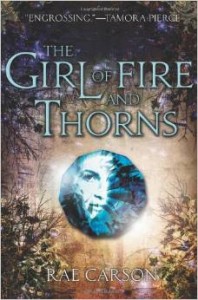 The Girl of Fire and Thorns by Rae Carson (2011 Finalist) [Also The Crown of Embers, 2012 Nominee, and The Bitter Kingdom, 2013 Nominee]: An utterly unique and beautiful fantasy, with exceptional characters and plenty of danger, intrigue, and romance. The idea of a woman with a Godstone embedded in her belly may sound odd, but Elisa is one of the best heroines I've read in fantasy. She may look like an overweight, pampered princess, but she is so much stronger than anyone suspects, especially Elisa herself. The worldbuilding is lovely, with a Spanish influence that makes a refreshing change from the standard fantasy setting. Includes Map.
---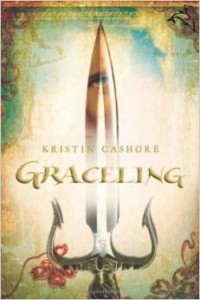 Graceling by Kristin Cashore (2008 Finalist [Also Bitterblue, 2012 Nominee]: In the Seven Kingdoms, there are certain people Graced with particular skills. Katsa has an unusual Grace: she is gifted in combat and can kill people with her bare hands. Katsa hates her Grace, and she hates being forced to use her Grace to serve as an enforcer for her uncle the King, but she has little choice. In public she does her uncle's bidding, but in private she works with a secret council to help the kingdom. Then she meets Prince Po, another Graceling, and the two of them begin to explore the true nature of their abilities, even as they risk their lives on a dangerous mission. Includes Map. (Graceling and Fire are companion books, but except for one connection, they are completely separate stories, and so different that I included them both on this list).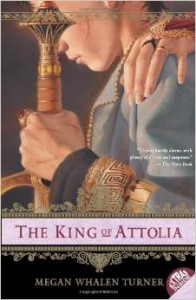 The King of Attolia by Megan Whalen Turner (2006 Nominee) [Also A Conspiracy of Kings, 2010 Nominee]: No list of high fantasy would be complete without Megan Whalen Turner's surprising and delightful fantasy series set in the land of Attolia.. The last two books in the series have been Cybils nominees, but readers new to this series will want to start with The Thief, first published before the Cybils Awards were founded. Reading the books out of order will spoil some plot twists.
---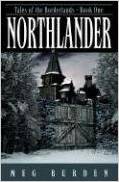 Northlander (Tales of the Borderlands) by Meg Burden (2007 Finalist) [Also The King Commands, 2010 nominee]: Northlander is a rich, layered fantasy with vivid characters. There are no evil villains here, just complex people trying to do what they think is the right thing in a land divided by prejudice, fear, and ignorance. A young healer from the Southlands gets into trouble when she uses her awakening powers to heal the king of the Northlands, but finds that goodness can be found in the most unexpected of places. Unfortunately, Northlander is out of print because the publisher is closed, but there are used copies available. Publishers looking to pick up a great out-of-print series should take a good look at this one!
---
Seraphina by Rachel Hartman (2012 Winner): Quoting from the finalist blurb, which I wrote: Seraphina is the story of an uneasy alliance between two very different civilizations–dragon and human–and a young music mistress caught in the middle. Rachel Hartman's sparkling prose makes good use of figurative and sensory language without bogging down the story in too much detail. The worldbuilding is excellent, and Hartman's dragons have a richly developed culture that is starkly different; even in human form they are clearly Other. With romance, court intrigue, dragons, and a provocative theme of intolerance, Seraphina is a book that is sure to appeal to teen readers
---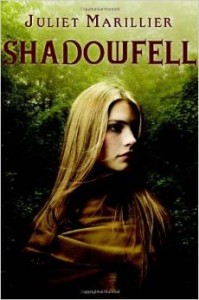 Shadowfell by Juliet Marillier (2012 Nominee) [Also Raven Flight, 2013 Nominee, and The Caller, 2014 Nominee]:  Shadowfell is a strong, character-driven fantasy about a girl who can see the Fey in a world where any hint of interaction with them is punishable by death — or worse. The worldbuilding is lush and the Good Folk are real characters, and interesting ones at that. The series has themes of sacrifice and choice, and deals with the difficult question of doing evil acts in service of the greater good, and the emotional cost for someone in that position. Includes Map.
---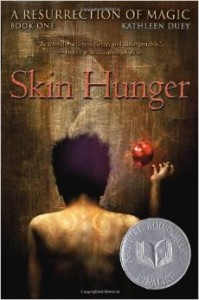 Skin Hunger: A Resurrection of Magic, Book 1 by Kathleen Duey (2007 Finalist) [Also Sacred Scars, 2009 Finalist]: This is one of my favorite fantasy series. Skin Hunger starts with two very different and seemingly unconnected stories, then gradually and subtly reveals the connections. One of the two stories is about a school of magic, but this is no Hogwarts: it's a very dark fantasy. Skin Hunger is like the dark chocolate of fantasy: deep and dark, sometimes bitter, but rich and incredibly satisfying. The worldbuilding is amazing, and the characters so real that a part of me believes that they are. (And who's to say that they aren't?)
-Sheila Ruth, Wands and Worlds