First off, congrats!! We are all thrilled The Living won! Could you tell us a bit about how you came up with the idea for this book?
MdlP: I'm so honored that The Living won! Thank you, thank you, thank you! The book was a bit of an experiment for me. First of all, I was coming off four much quieter novels, and I wanted to try and write something louder and more plot driven. I also wanted to plant my diverse characters (mixed-race kids) into a more commercial storyline to see if I might be able to put them in front of a new kind of reader. So, that was my initial thought. In terms of plot, I wanted to tell a story that shifted from a contemporary/realistic feel, to a survival story. We always see storylines that take place after the world has shifted to post apocalyptic. I wanted to try and write a book that shows the actual shift. I also wanted to show that class and status crumbles in the face of disaster — it's the great equalizer.
You have generally, in the past, written contemporary YA fiction. Did you feel that writing speculative fiction was a departure for you? Did you approach it differently than your other books?
MdlP: The Living was a HUGE shift for me. When I turned in the first draft of the novel my editor said, "Wow, Matt, you've managed to write an action-adventure novel without any action or adventure. So I had to start over. I felt like a complete rookie. But once I started to figure out how to do speculative action-adventure, it was so much fun.
So, have you ever been on a cruise?
MdlP: I've only been on one cruise in my life, the one I took to research this book. I went by myself, and the cruise company allowed me to shadow a towel boy for two days. On the other days . . . I may or may not have consumed many piña coladas by the pool.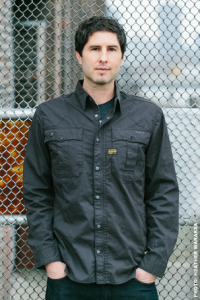 It's a bit of a spoiler, we know, but we're curious: how do you feel about big pharma?
MdlP: Big pharma scares the s**t out of me. It really does. Some of these companies are ruthless. How could they not be; there are billions and billions of dollars in play. Some of the drugs produced by these companies are really helping people live better lives. But that is NOT the bottom line. The bottom line is profit. And many of these faceless companies will do whatever it takes to increase their profit. I truly believe that when we look back on this era of big pharma in, say, twenty years, we will be appalled. It shocks me that more people aren't talking about this.
If you don't mind us asking, what are you working on now?
MdlP: Well, the sequel to The Living came out on May 12th. I'm so excited! This is the final stretch of Shy's story. I can't wait for reader of The Living to find out what happens. And I'm currently halfway through the next book. It's called Chasing Theda White (at least for now), and it's a bit quieter.
Thank you so much for interviewing me!!!!
Be sure to follow Matt on his blog or on Facebook, Twitter, and Instagram.