When Arnold Lobel's Frog and Toad Are Friends was first published, it introduced easy-going Frog and gruff, curmudgeonly Toad to a generation of beginning readers, who readily devoured the antics of this mismatched pair of friends. The tradition Lobel started back in 1970 continues today. Many easy reader series feature characters (mostly animals) with opposing personalities who must figure out how to reconcile their differences. Here are ten books that showcase a modern cast of dynamic duos.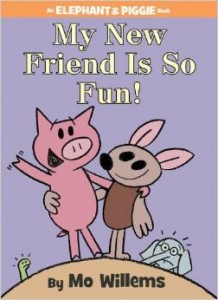 My New Friend Is So Fun! by Mo Willems (finalist, 2014) –  One of the ongoing problems of friendship is jealousy. Willems tackles this thorny topic by having Piggie spend the day with Brian Bat, leaving Gerald to worry that he is losing his best friend. Luckily for all, especially beginning readers, his fears are groundless.
---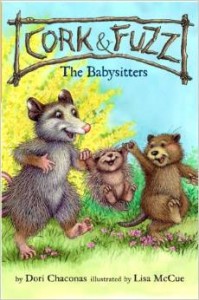 Cork and Fuzz and the Babysitter by Dori Chaconas; illustrations by Lisa McCue (finalist, 2010)- Helpful Cork, a muskrat, tends to a baby porcupine, while Fuzz, a possum, is too busy with his own project to offer much assistance.
---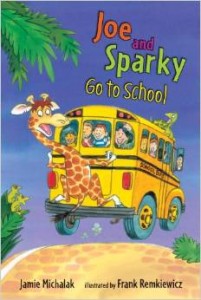 Joe and Sparky Go to School by Jamie Michalak; illustrated by Frank Remkiewicz (finalist, 2013) – When Sparky, a cautious turtle, finds himself trapped in a yellow bus filled with "short, noisy people," his best pal, Joe, an adventurous giraffe, tags along to keep him company.
---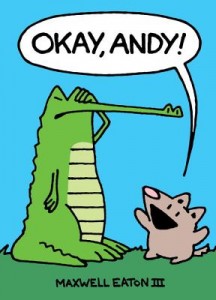 Okay, Andy by Maxwell Eaton III (winner, 2014) – With minimal text, Eaton brings his two protagonists to life in this graphic easy reader. Preston, an irrepressible coyote pup, pesters Andy, a long-suffering alligator, to play with him when all Andy wants to do is hunt for rabbits.
---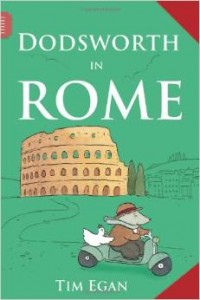 Dodsworth in Rome by Tim Eagan (finalist, 2011) – Responsible Dodsworth and his companion, a mischievous duck, travel to Rome where duck gets into all sorts of trouble. In other books in the series, the pair travels to New York, London, Paris, and Tokyo.
---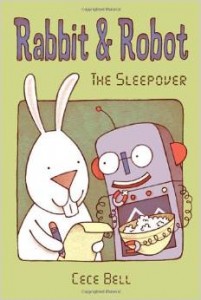 Rabit and Robot: The Sleepover by Cece Bell (finalist, 2012) – This standalone is a standout! Excitable Rabbit has a list of activities for his sleepover with Robot. When things don't go as planned, levelheaded Robot comes up with solutions—until he can't and Rabbit must save the day.
---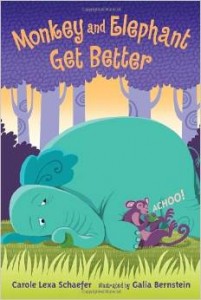 Monkey and Robot by Peter Catalanotto (nominee, 2013) – In four easy-to-read chapters, Monkey and Robot watch a movie together, play games, and observe nature. Silly Monkey is less mature than his metallic friend, but this only adds to the fun.
---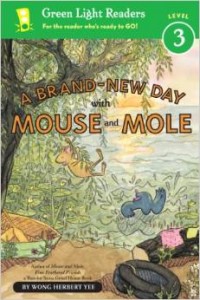 A Brand New Day for Mouse and Mole by Wong Herbert Yee (nominee, 2008) – This easy reader series features a male/female friendship. In this book, Mole discovers holes in all his clothes and goes shopping for new ones with Mouse.
---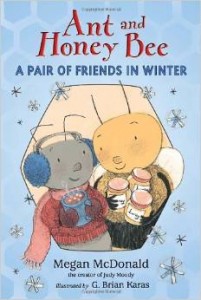 Ant and Honey Bee: A Pair of Friends in Winter by Megan McDonald; illustrations by G. Brian Karas (nominee, 2013) – This charming series features two insect friends. Antsy Ant isn't quite ready to settle down and hibernate, but her grumpy pal Bee just wants to be left alone so she can sleep.
---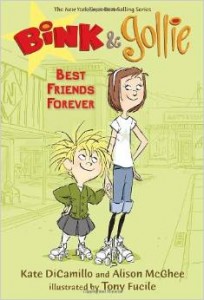 Bink and Gollie: Best Friends Forever by Kate DiCamillo and Alison McGhee; illustrated by Tony Fucile (nominee, 2013) – Unlike the other friends appearing in this list, Bink and Gollie do not have fur, scales, or antennae. In this series final, Gollie expects to be treated as royalty, while her pal Bink just wants pancakes; short Bink longs to be tall like Gollie; and the pair seek fame by trying to get into a book of world records.
---
–Catherine Nichols, The Cath in the Hat