How did you find out about the sinking of the Wilhelm Gustloff, and what about it grabbed you as a subject suitable for YA historical fiction?
My father's cousin told me about the sinking of the Wilhelm Gustloff. I was shocked that I had never heard of it. When I asked her how she came upon the story she told me that she had taken part in the evacuation and was granted passage on the Gustloff. By a twist of fate, they were not able to board the ship the day of the voyage. I was intrigued by the hidden history and thought the elements of courage and hardship would be well suited for a YA novel.
In your author's note, you mentioned that your extensive research took you to many countries. What primary sources did you encounter? Were you able to speak to survivors or their families?
There aren't many survivors who are still alive, but yes, I did speak with a couple. Their testimonies were incredible. I also met with two deep sea divers who were among the first to explore the sunken Gustloff after the war. Their description helped me understand how the ship went down and what people may have experienced. I spoke to children of survivors and also relatives of the victims. Their stories were extremely emotional.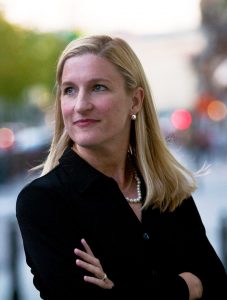 Related—any fun stories from your travels?
Many fun and also rewarding experiences. The region of former East Prussia that is now Poland is still full of mysterious stories. And of course there are many people out there who claim to have items from the sunken ship. Half the fun is untangling fact from fiction.
Was any one character's story harder to tell/write than the others?
The character of Emilia was hard to write, mainly because it was so heartbreaking. I wanted to capture a sense of vulnerability with Emilia but also position her as a heroic warrior.
This one's from YA Fiction chair Melissa Wiley, based on her own process of writing historical fiction: I'm always curious to know how other writers work. Even though I research thoroughly before I begin writing, I often find myself stopping in the middle of a scene to go look up more small details for accuracy (particularly things having to do with sensory detail, language, and incidental moments in everyday life). What is your writing process like? Do you ferret out all your answers first so that you can write steadily? Or is it more a stop-and-start process?
I try to conduct as much research on the front-end as possible, but there are always those small details that hang me up. So it's definitely a start-stop-start process for me. History provides a basic framework and I try to inject my creativity with the characters and their storylines. I outline very loosely as I like to leave room for surprises as I'm writing.
Bonus question, if you like—what is your next project?
The new novel I'm working on is set in Spain during the 1950's and explores secrets of the Franco dictatorship.
Thank you so much for your time!