Family story time is a special time and if, like me, you have a wide span of years between your kids, finding a book that will satisfy all those young minds and hearts can be a challenge. Here are some books that combine fun adventure and humor sure to appeal and entertain everyone from the youngest kids able to listen to all the adults.

11 Birthdays
by Wendy Mass (finalist 2009): This book just has a fun concept. Who hasn't wished they could have a do over on a particularly bad day? There are a lot of funny interactions to go along with it.
---

Cold Cereal by Adam Rex (nominated 2012): How could a book about an evil cereal company not be fun? Adam Rex delivers in this adventurous tale with its share of the absurd.
---

Dragonbreath: Attack of the Ninja Frogs
by Ursula Vernon (nominated 2010): There are frogs who are ninjas. Your audience, from preschool to adult, will be hooked after you just read the title.
---

Fake Mustache
by Tom Angleberger (nominated 2012): With a mustache that fools everyone a kid who tries to take over the world-and nearly succeeds but for the interference of a heroic average kid and a child star-there are laughs guaranteed on almost every page.
---

Frogged
by Vivian Van Velde (nominated 2013): This is a fun and humorous twist on an old fairy tale with plenty of girl power thrown in for good measure.
---

Geeks, Girls and Secret Identities
(finalist 2012): Super heroes! Average kids saving the day! And all told with the snarky humor as only a middle schooler can wield it.
---

The Hero's Guide to Saving Your Kingdom
by Christopher Healy (nominated 2012): There is nothing more fun than watching these hapless princes stumble around trying to save the day.
---

Rump: The True Story of Rumpelstiltskin
by Liesl Shurtliff (nominated 2013): You are guaranteed giggles on every page for just reading the main character's name. There is the added bonus of all kind of fairy tale fun and adventure to keep everyone yearning for the next page.
---

The True Blue Scouts of Sugar Man Swamp by Kathi Appelt (nominated 2013): Raccoons are adorable and funny in this tale of a swamp in danger.
---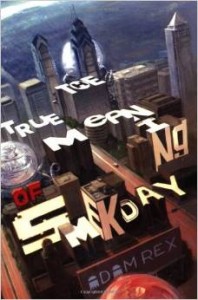 The True Meaning of Smek Day
by Adam Rex (nominated 2007)
This laugh out loud tale about a road trip following an alien invasion involving a girl looking for her mom, a cat, and an outcast alien is laugh out loud funny with some deeper themes for older listeners to think on.
---
– Brandy Painter, Random Musings of a Bibliophile