It's always a challenge to select just one CYBILS Poetry book as the winner. Here are ten CYBILS finalists I love. Check them out for National Poetry Month.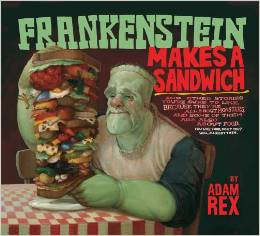 Frankenstein Makes a Sandwich, written and illustrated by Adam Rex (finalist 2006): This was one hilarious poetry book for the first year of the CYBILS. The kids at my school check this book out all the time. The book shows how much it's loved. Who doesn't love reading about a bare cupboard for Frankenstein and that Dracula needs better hygiene.
---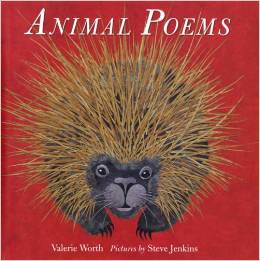 Animal Poems, written by Valerie Worth, illustrated by Steve Jenkins (finalist 2007): I have always been a Valerie Worth fan. This book is posthumous collection by Valerie Worth. The illustrations by Steve Jenkins are brilliant. Her free verse on a variety of animals serves as mentor text for this form.
---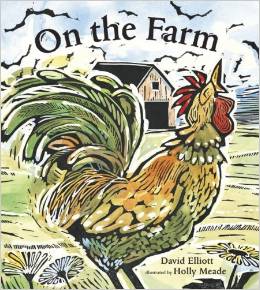 On the Farm, written by David Elliott and Holly Meade (finalist 2009): Crowing roosters, buzzing bees, a slithering snake and more on in this fun book of farmyard poems. The illustrations by Holly Meade worked in concert with Elliott's imagery.
---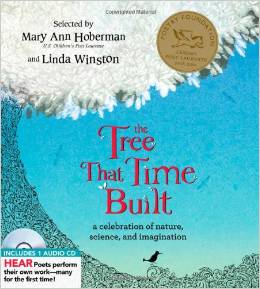 The Tree That Time Built: A Celebration of Nature, Science, and Imagination  by Mary Ann Hoberman and Linda Winston; illustrated by Barbara Fortin (finalist 2009): In the introduction, Hoberman describes that our families trees are all rooted in the tree that time built. This is a powerful collection about science, nature and imagination readers have so many poems to read. It's a jammed packed book and includes a CD with 44 poets reading their work.
---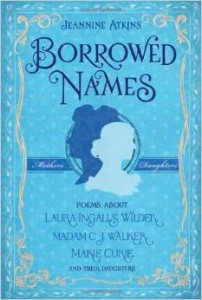 Borrowed Names: Poems About Laura Ingalls Wilder, Madam C.J. Walker, Marie Curie, and Their Daughters by Jeannine Atkins (finalist 2010): Atkins looks at three important women of the late 1800's and their daughters. It's a beautiful blend of history, poetry and includes a timeline.
---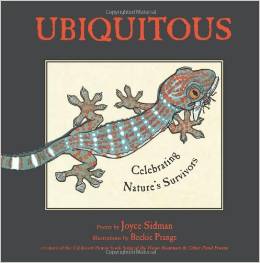 Ubiquitous: Celebrating Nature's Survivors by Joyce Sidman; illus. by Beckie Prange (nominated 2010): It's no surprise that Joyce Sidman's books have been on several finalists lists since the CYBILS' inception. Ubiquitous combines poetry in different formats such as the concrete poem, "Shark" and the diamante, "First Life" along with freeform and facts into a book that is beautifully illustrated by Beckie Prange.
---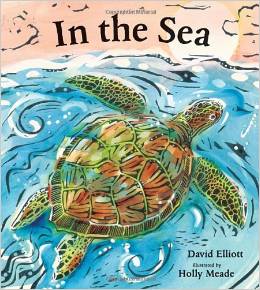 In the Sea by David Elliott; illustrated by Holly Meade (finalist 2012):  From seahorses to the octopus, there's much to love in the poetry of Elliott. Meade captured a feel of being in the sea right along with the animals. This book could be used right along with a study of the ocean.
---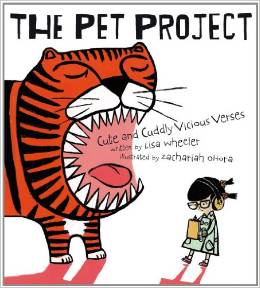 The Pet Project: Cute and Cuddly Vicious Verses by Lisa Wheeler, illustrated by Zachariah OHora (finalist 2012): This finalist made me laugh out loud. It's not your average warm fuzzy animal poetry book but rather how a little girl goes about researching the perfect pet. It would be fabulous to use when teaching opinion writing. Ohorar's illustrations add to the poems.
---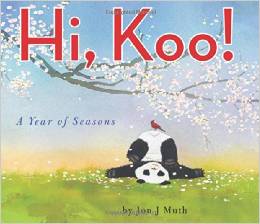 Hi, Koo!: A Year of Seasons by Jon J Muth (nominated 2o14): Muth takes us through the seasons with Koo the panda. He also abandons the traditional 5-7-5 format that is taught in schools as haiku. This is refreshing for me who writes haiku. I am glad that the publisher didn't demand that Muth stick to the traditional format.
– Jone MacCulloch, Deo Writer