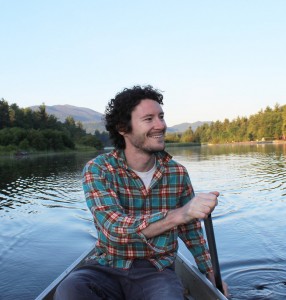 First off, congratulations! Okay, Andy! is an adorable book. How did you come up with the idea for it?
ME: Thanks so much! About four years ago I sketched a 32 page picture book about a slightly menacing curmudgeon of an alligator named Andy and an irrepressible raccoon of the same name. I loved the characters but the book was shelved for various reasons. Then a few years later, Cecile Goyette at Blue Apple Books asked if I had any ideas for an early reader series, and I remembered these two characters. New stories were sketched, the raccoon became a coyote pup named Preston (though he later claims to be an Andy once again in the aptly named sequel, ANDY ALSO), and here we are today! It's amazing how old work can spring back to life.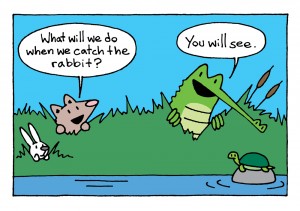 Preston and Andy are quite the pair! Did you base your characters or their relationship on anyone you know in real life?
ME: Andy and Preston are loosely based on an author/illustrator I've known my entire life. On my worst days I'm stubborn and cynical like Andy. But on a perfect day in a perfect world I hope that I approach, if only barely, the level of joy that Preston feels just moving and making noise. Of course, even a hardened Andy has to crack a smile at such fun!
We learn so much about your characters through dialogue and their expressions alone. Was your intention always to write a story for young readers told solely through dialogue? Did your earlier manuscripts differ?
ME: A story told with dialogue came naturally after a number of years working on my FLYING BEAVER BROTHERS graphic novels. My longest line of narrative text in recent memory is an expository "Meanwhile . . ." When a book like this is truly character-based, you don't need more than voices and a look of exasperation or glee to tell a story. It's all we have in the real world, right?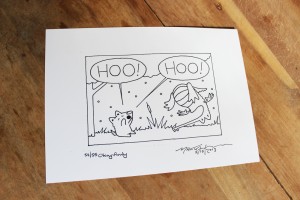 Right! How did you create the art for Okay, Andy?
ME:  The line art was all drawn by hand with pen and ink on paper. I love the finality of ink. You can spot every wobble where the phone rang or my dogs barked at a squirrel. Once it was inked, I colored on the computer for a bright but flat look. I wanted each page to look almost like the stage of a puppet show.
If you don't mind us asking, what are you working on next?
ME: Well, Andy and Preston's second book, ANDY ALSO, is already out. But beyond Andy and Preston, I've got a new picture book in the works that I'm really excited about. I can't give anything away right now, but, as with the rest of my work, it relies heavily on anthropomorphic animals.
Thanks so much, Max! You can see more of Max's work at his website, and be sure to follow him on Twitter as well!