First off, congrats!! We all really enjoyed The Luck Uglies. Could you tell us a bit about how you came up with the idea for it?
PD:  Thank you so much for your kind words. It was a complete surprise and a total delight to learn that I had received the Cybils Award for MG Speculative Fiction.
The Luck Uglies began as a short story I wrote for my daughters. I have always dreamed of publishing novels. For years I wrote adult crime fiction, and about twelve years ago came very close to having that dream become a reality. Alas, the stars never aligned and, for a long time, I quit writing altogether.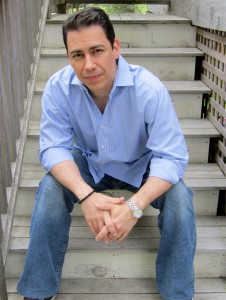 Then, late one fall, when my oldest daughter was six and our thoughts turned to Christmas, she asked if I could write her a story as a present. One we could read together. With that simple request, everything changed. Little did she know that she was the one who had given a gift to me.
I was writing again. A children's story. I drew inspiration from the classic fantasies I loved as a child (Lloyd Alexander's Chronicles of Prydain at the top of the list) and blended in the types of antiheroes I enjoyed writing about in my crime fiction. I truly had no aspirations to seek an agent for the work, nor to have it published. My goals were far more modest but at the same time all the more important. I simply wanted to finish a story for my daughter.
I met that first deadline and my family gathered around the fireplace on Christmas Day as I read what would become the first chapters of my next novel. It was called The Luck Uglies and I completed it over the next three months, one chapter per week, each read aloud by the fire to my small but enthusiastic audience.
One of our favorite things about the book was the names and the creatures you created. How did you come up with such fantastic names? How about the Bog Noblins; what was the inspiration for them?
PD: I have a lot of fun with names and I think they are great tools when it comes to world-building and establishing a sense of setting. Towards that end, I've become a bit of a name collector. I keep a notepad of interesting names (people, places, and things) that I come across. I don't always know where they'll find a home, but they are there as a resource when I need them.
That said, I have a preference for names that are unique. For example, The Luck Uglies are a secret society and I wanted to use a name that didn't exist anywhere else. In my research, I came across a political gang known as the Plug Uglies. I liked the ring of it, and started playing with the sounds until I found something that fit my fantasy world.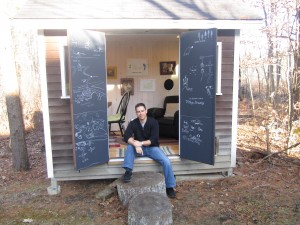 Similarly, for the Bog Noblins, I wanted to come up with a new creature that wasn't quite a goblin, troll, orc, or ogre. The grey-skinned, red-haired Bog Noblins were inspired by the Bronze Age "bog bodies" found preserved in the peat bogs of Europe. Once again, I started playing with sounds until I came up with a name that I liked.
The other thing we really enjoyed was the "Dickensian" feel of the book. Did you set out to put this in a particular time or place?
PD: I set out to write a story that felt timeless but familiar, without pinning it to any particular time period or location. I think the setting blends elements of medieval and Victorian Europe, as well as early colonial America. From the beginning, I wanted to set the book in a single, sprawling village so that we could explore its nooks and crannies and develop a sense of intimacy with the place. Every shop, alleyway, and tavern has its own secrets, and I loved creating a town where readers' imaginations could run wild to fill in some of the shadows. It's been fun to hear that readers in both the U.S and the United Kingdom have appreciated Village Drowning, even with all of its flaws.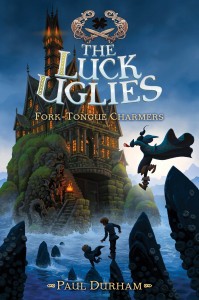 The Luck Uglies reads as a stand alone, but we understand that there's a sequel. Did you always intend that, or was there just more of Rye's story to tell?
PD:  I intended to write a book that could stand on its own, but at the same time I wanted to establish a world that felt much larger and capable of supporting more stories. I always knew where Rye's journey would ultimately take her, I just didn't know if I would get to share it.
Fortunately for me, HarperCollins acquired The Luck Uglies as a trilogy, so I learned early on that I would have the opportunity to take Rye on a more full and complete adventure. The Luck Uglies: Fork-Tongue Charmers was published on March 17, and the third book in the trilogy will be out in spring 2016. I'm very proud of Rye's character arc, and I can't wait to share its many twists and turns with readers.
If you don't mind us asking, what are you working on next?
PD: I don't mind at all–thanks for being interested! I'm currently editing the third book in the trilogy, tentatively titled The Luck Uglies: Rise of the Ragged Clover, and also preparing for my tour to promote Fork-Tongue Charmers this spring. In between all of that, I'm having a great time digging in creatively on my next middle grade project. It incorporates fantasy into a more contemporary setting, but it will still be full of unique creatures, places, and names.
Thanks, Paul! You can find Paul on Facebook, Twitter, and his website.