First off, congrats! We loved The Walls Around Us. Can you tell us a bit about how you came up with the idea for the book?
Thank you so much! I just want to say how incredibly honored I am that The Walls Around Us was chosen for a Cybil this year. Knowing these awards are selected by bloggers who read and support and critique and start conversations about our books all throughout the year makes this mean all the more to me.
The truth is, The Walls Around Us came out of a frustrated place. I was questioning myself as an author and was stuck, unsure of what to write next… I ended up giving myself permission to write solely what I wanted, to be as true to myself as possible. At the time, I was juggling two different book ideas. I had this one idea to write about a haunted juvenile detention center, because I have a deep attraction to ghost stories. I had this other, completely separate idea to write about killer ballerinas, somewhat inspired by the years I studied ballet when I was a teenager… though I promise I didn't kill anyone. It was when I was giving myself permission to be my weirdest, wildest self on the page that it came to me: These two ideas could in fact be one single story, meeting in the middle with one girl, a ballerina and a prisoner. I started writing and I didn't want to stop even though I worried what future readers might think. I had more than one "unlikable" girl character. I had two unreliable narrators. I had my killer ballerinas and my ghosts and my liars and my dreamers and lot of voicey writing running all down the page. I remember asking myself, This is hands down the weirdest thing you have ever written…who's going to even want to read this? Then I answered myself: Who cares? Write it for YOU. So I kept writing.
What was the inspiration for the whole premise of a ballerina that ends up in prison? Why did it matter to you that it was set in a prison? What kind of research went into that portrayal?
One of the original ideas that I was playing with before The Walls Around Us formed into its weird whole was a story about two ballerinas on the run after they committed a murder. I didn't get too far in the plot—I had them stopped at a rest stop on the side of a highway, unsure of where to take them. It was when I got stuck there that I turned back to writing my ghostly prison story. I happened to be writing a scene in which the narrator Amber and the other girls are gathered around the window slits in the Aurora Hills Secure Juvenile Detention Center, looking down at the blue van on the curb to see the new prisoners arrive. A new inmate stepped out of the van in her orange jumpsuit and that's when it hit me. It was one of the ballerinas, from my other story. (Of course the plot in that story changed dramatically since then.) But it was one of the ballerinas. She got caught—and she got sent to Aurora Hills.
I wanted to write about being incarcerated because I wanted to inhabit that space, the space so many juvenile inmates inhabit. I wanted to try to understand what it felt like. I'm incredibly troubled by the juvenile prison system in this country. There is a study that shows that overall incarceration of young people may be down, but those being locked up and facing harsher punishments for smaller offenses than before are disproportionally kids of color, and teenage girls. The Walls Around Us touches on this, very faintly, but it also takes a step outside reality. It is a ghost story, after all.
To research, I watched documentaries and interviews with prisoners, I read about juvenile detention centers in my home state of New York, I read letters from prisoners, but most of all, I imagined. This was a supernatural story meant to live in a world of its own, so I didn't want to coopt any real young person's life story. I invented a place far up on a hill in upstate New York and I pictured it, vividly. I thought about all the things I could have done at fourteen to end up in a juvenile detention center, I chose my crime, and I ran with it. There are more autobiographical pieces inside this book than anyone might guess.
What made you decide to tell the story from Violet and Amber's viewpoints? What drew you to these two to tell the story, and not Ori?
Since the book came originally from two ideas, there were always two narrators. There was always Amber and there was always Violet, and I couldn't choose one over the other. The connective tissue between the two was one girl, one character who was significant in both sides of this story, Orianna Speerling, or Ori. There was a point when I did consider giving Ori a POV, but it worked better when all we could do was look at her from the outside. In this way, she stays an enigma. We never reach our way fully inside her, and so she lives on without us, the way she did for Violet and for Amber. She becomes almost mythical.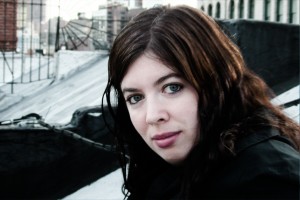 What do you think is the most important thing about this book? Was it as powerful to write as it was to read?
The Walls Around Us asks you to put your judgments aside about who is guilty and who is innocent. The obvious suspect, the kind of girl who someone might expect to get locked away in a place like the Aurora Hills Secure Juvenile Detention Center without regard for her future, may be innocent all along. I wanted everything about those assumptions to be questioned.
There were points during the writing of this book when I got swept away and, I'll admit, disturbed by what I was writing. The violent scene that takes place in the smoking tunnel behind the theater during dress rehearsal spilled out in a flood and then shocked me afterward. But my favorite part to write was the final sequence—all of what happened at the end. That was the most powerful part for me. I felt like I was righting the wrongs of the universe somehow, even if this particular universe was the small one that lived in my head.
If you don't mind telling us, what are you working on next?
I'm working on my next book with Algonquin Young Readers, a YA novel coming out, I really hope if I keep working hard at writing it, in 2017. I'm one of those superstitious writers who can't talk too much about a book-in-progress until it feels more "real," and there is still a lot of work to do on my own and with my editor, but I will say a few things because I like you: It's a story about teenage girls… If you know me and my passions, that's not surprising. It's my first-ever novel set in New York City, where I live. Surreal, strange things happen, of course. And at its twisted, shaky heart I think it wants to be a love story.
Thank you so much, Nova, for your time!