First off, congrats! We adored Professor Astro Cat's Solar System. Can you tell us a bit about how you came up with the idea for the app? Did one person take the lead, or was this a team effort? 
Thank you, we were so delighted to win a Cybils!
The whole Professor Astro Cat story began with the book, Professor Astro Cat's Frontiers of Space by Ben Newman and Dr Dominic Walliman, published in 2013 by Flying Eye Books, our sister company. Minilab was founded in January 2015, set up to create beautiful and educational digital content for children. We're a small team of creatives, animators and developers who all worked closely together to bring you Professor Astro Cat's Solar System! Professor Astro Cat had already proven his ability and popularity in presenting scientific information in a fun and easy-to-understand way in print. Given this track record, he became the obvious candidate for this new digital project. Once we'd decided to create a digital Professor Astro Cat experience, one of our earliest stipulations was that, even though it would cover similar educational content, the app shouldn't be a straightforward conversion of the book.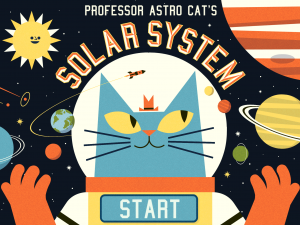 What were the challenges/advantages of adapting a physical book to an app?  
To fully play to the strengths of this new format, we had to re-imagine Astro's world. There are many ebooks and digital books that stick to the practices of print, that can sometimes end up feeling a little bit like a glorified PDF but in developing a digital Astro Cat experience we wanted to offer something that a book can't.
Having the ability to animate Astro was a great way of expressing his character through motion. But digital experiences really come into their own when there are things a user can affect – making passive consumption of MEDIA, active. So there's lots to uncover, prod, swipe, read and also… play. By playing to the strengths of the digital format, we have allowed children to explore their own personalized, beautiful and educational adventure through space.
What was the most difficult part of producing the app? The most fun? 
One of the biggest challenges in producing the app was arranging the layout of the information. In a book there is only usually only one destination size. With an app, the design of the layout has to be flexible so that it works across a whole range of devices, from the squarer tablets to wider aspects found in smartphones and smaller devices. There's a huge amount of information in the app, with a lot of text, so we had to make sure that it all fits, on whatever screen size it is without compromising the content.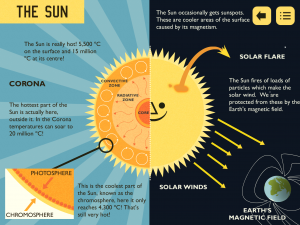 One of our favorite things about producing the app was how much we learned about space ourselves; we can all now tell you the order of the planets from the Sun; the names of Mars' moons and what Saturn's famous rings are made of. We've become hooked on all the amazing NASA findings that are constantly being released and we all watched excitedly as Tim Peake and his colleagues launched into space!
So many people love Pluto, even though it's been demoted and is no longer considered a planet. Now that New Horizons has given us so much great information and photos, will you be adding information on Pluto to a future release?
Maybe! We're always making small changes to the app as new information about the planets is released, for example when water was discovered on Mars. We may choose to add more information about Pluto to a future update. Equally, New Horizons may also identify a new planet within the Kuiper Belt that merits an entry within the app, who knows! This is another great thing about making apps, that the we are able to update it as new information is released and keep it right up to date with the latest space news.
I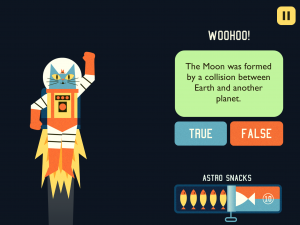 f you don't mind telling us, what can we look for from you next? 
At the moment, we're working very hard on translating Professor Astro Cat's Solar System into 6 new languages for a new update in March. This is so exciting for us as it means that children from all around the world will be able to have a go at the app!
Alongside constantly updating Professor Astro Cat's Solar System, we are in the production stages of a couple of other fun projects. We can't give away too much at this stage but our next app, in a nod to the illustration and story-telling background of Nobrow and Flying Eye Books, our sister companies, will teach children how to draw things that they see around them and we hope will inspire their creativity not only in the digital realm but also to put pen to paper when they have finished playing too.
Thank you so much for your time!